PROVIDING THE PLATFORM FOR WOMEN'S VOICES: The Balkan Bombshells case
January 27, 2023
|
|
Blog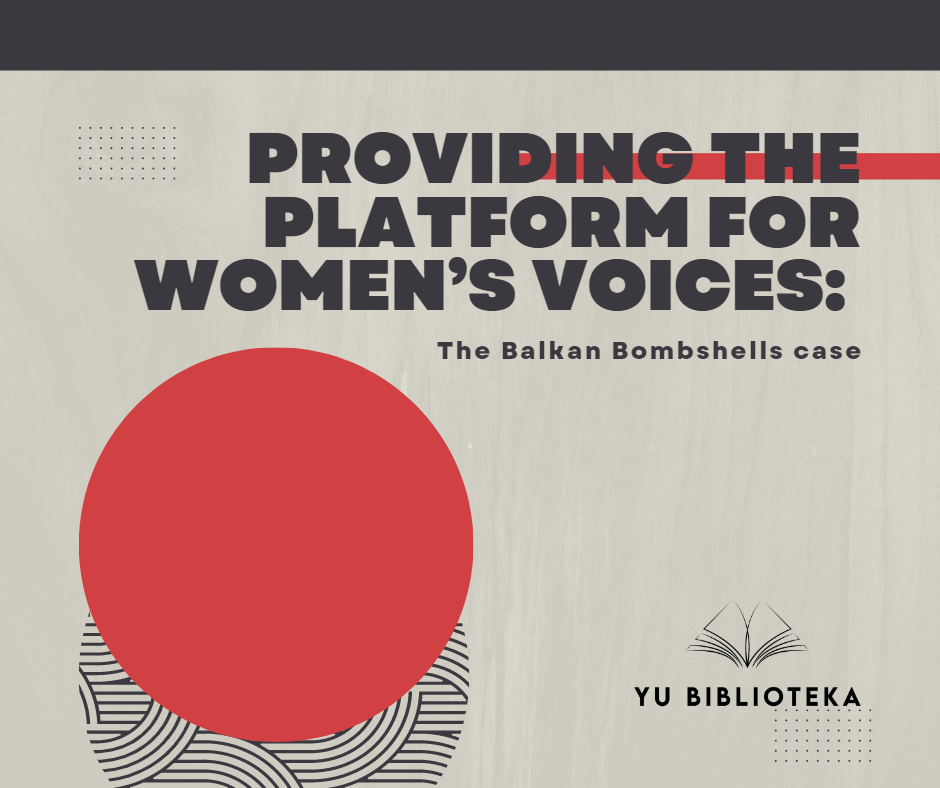 "A collection to whet the appetite of anyone wishing to learn more about a region rich in history, folklore and (her)stories. Telling it like a woman does not mean literature for women only: it provides an insight into half of humanity, a window onto the lives of citizens who work, love, and develops their inner lives."
These are the website introductory words to the latest anthology of short stories from women writers from Serbia and Montenegro, published by Istros Books and compiled and translated by Will Firth.
THE ANTHOLOGY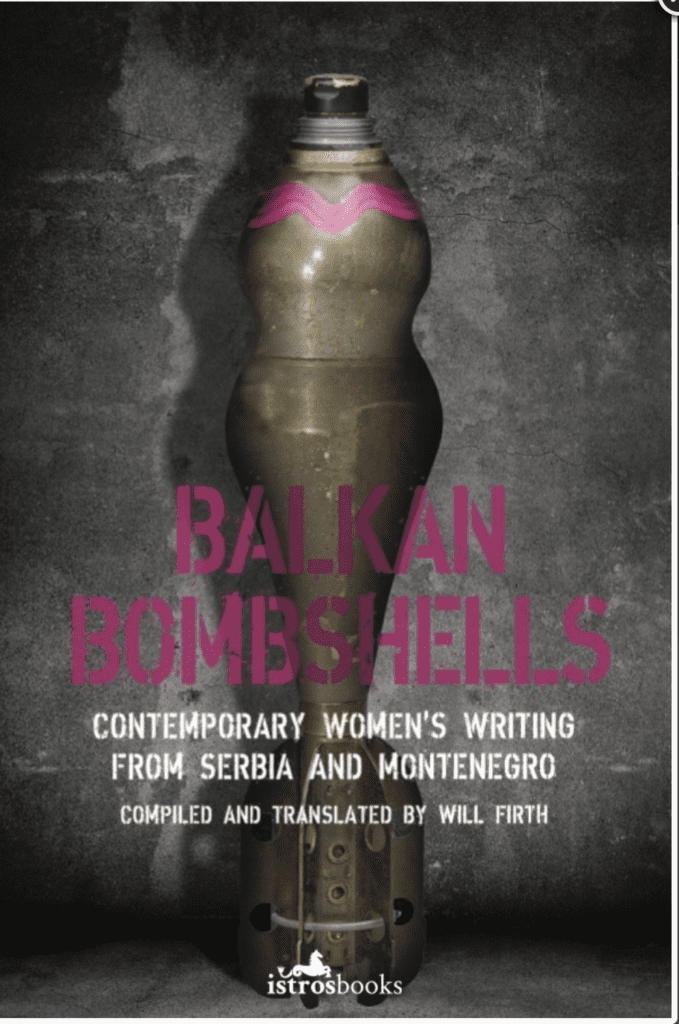 This collection of writing by strong female authors is the culmination of several fortuitous developments. It began when the translator, Will Firth, was awarded a travel scholarship by the EU consortium i-Portunus for a one-month stay in Belgrade in late 2021. The idea of compiling a collection of women's stories came from his host organization, the KROKODIL Centre for Contemporary Literature. It, and the team of the Biber contest for socially engaged short stories, helped him select a stock of powerful texts by young women writers from Serbia. But the material was insufficient for a satisfying-length book, and since Will has many acquaintances in Montenegro we decided to extend the scope. The result is this multi-generational, Serbian-Montenegrin prose anthology. I was immediately taken when Will approached me with the idea – says Susan Curtis, the founding director of Istros Books for YuBiblioteka.
Susan emphasizes that it is important to present women's writing in general, "since we constitute half of the world's population and – it is fair to say – have been underrepresented for a long time. The Balkans, or SE Europe if you prefer, has excellent female writers and always has done – a fact that Will Firth highlights in his introduction".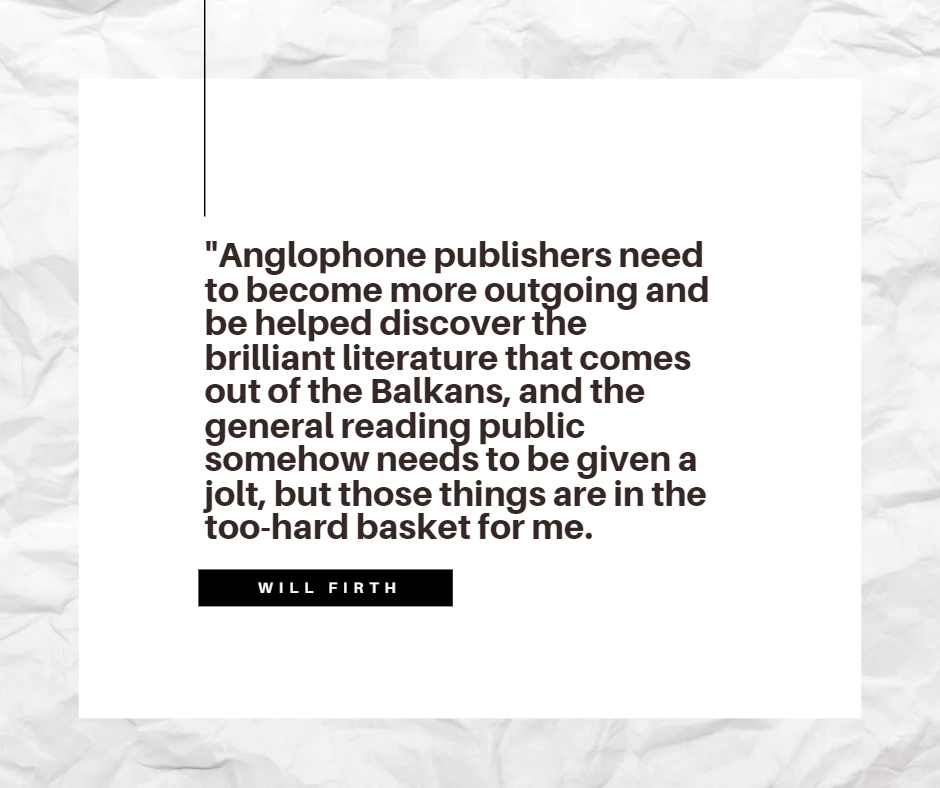 This anthology consists of mostly short stories by seventeen established Serbian and Montenegrin writers, as well as those who are still at the successful beginning of their careers in the literature world. The anthology gathers Ana Miloš, Andrea Popov Miletić, Bojana Babić, Dana Todorović, Jelena Lengold, Jovanka Vukanović, Katarina Mitrović, Lena Ruth Stefanović, Marijana Čanak, Marijana Dolić, Milica Rašić, Olja Knežević, Slađana Kavarić-Mandić, Svetlana Kalezić-Radonjić, Svetlana Slapšak, Tijana Živaljević and Zvonka Gazivoda.
Many would say (me Sanja Pavlovic included!) – wow, this is something worth reading!
SEXUALIZATION OF WAR OR EXPOSING SEXISM?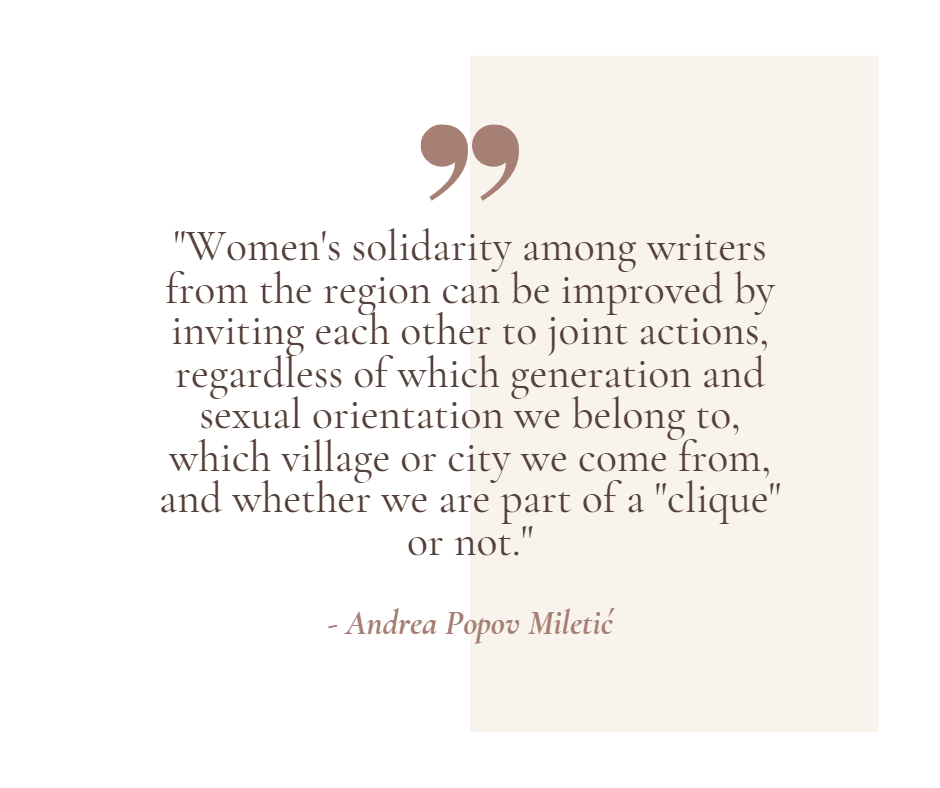 Unfortunately, this anthology maybe would be one of those with women writers that would go under the radar of the wider public if it wasn't for the negative attention. The thing is – the title of the anthology "Balkan Bombshells" and the cover photo of a bomb 'dressed' in pink – opened some new, but also some old discussions and emotions. How are women writers treated, especially when it comes to the authors from this region, by the West publishers and translators? Are these titles and the cover only part of the old marketing trick (unfortunately, still a successful one!) that sexism sells? Many negative critics available on social media regarding this anthology claim that this is not just a "daily sexism", but also a sexualization of war, the colonial mindset that still makes a profit on war traumas of people from the region. And, finally, given that the subjects of the discussion on both sides were precisely women writers from this region, the issue of power centers and the possibility of women's solidarity on the margins of those centers was opened as well.
The name of Marija Ratković from Serbia could also be found among the seventeen authors of this anthology, but she decided to withdraw from the process. She is one of the writers who spoke publicly about this decision.
There are serious reasons why I left this anthology – the most important one is the title of the anthology itself. I simply did not want to allow my literature to come before readers under a name that is offensive and incorrect. The Balkans are not only Serbia and Montenegro, and Balkan writers and literature are much more than bombs and bombshells. Working conditions in which the authors and our opinions are not respected, but at the same time we are asked to give away our work for free, are hopefully a part of the past. As a public figure, I often publicly speak out against injustice. Respected writers from the Balkans, Rumena Bužarovska and Selma Asotić, were the first to speak out against sexism (regarding this anthology). As one of the authors who have withdrawn from this collection, I felt I had a duty to tell how the process went, as the public should know – said Marija for YuBiblioteka.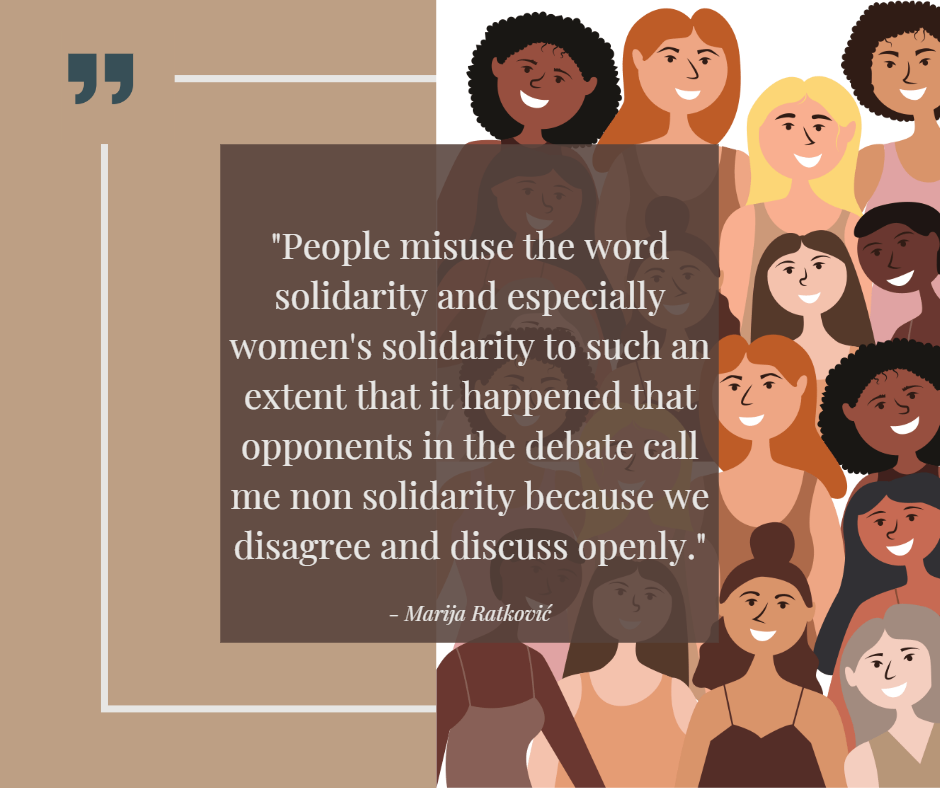 She adds that even today, when the anthology is published, she wouldn't do anything differently, except that she would write to her colleague writers from the book earlier, and not only when she found out that the working title will be the final one.
I wish I could have done it earlier – if we could have heard each other from the beginning, and talked, maybe we could have fought for a better title and cover. The time when I hoped that the publisher would change its decision could have been the time of the struggle for better working conditions. Only that would be different – says Marija.
Her colleague, writer Andrea Popov Miletić, whose excerpt from her novel Young pioneers, we are Seaweed (Pioniri maleni, mi smo morska trava in Serbian; 2019) is part of this anthology, does not agree with the judgment that the title and cover photo are offensive – she sees this differently. She says that this anthology is important not only for her but also for other writers whose works are published: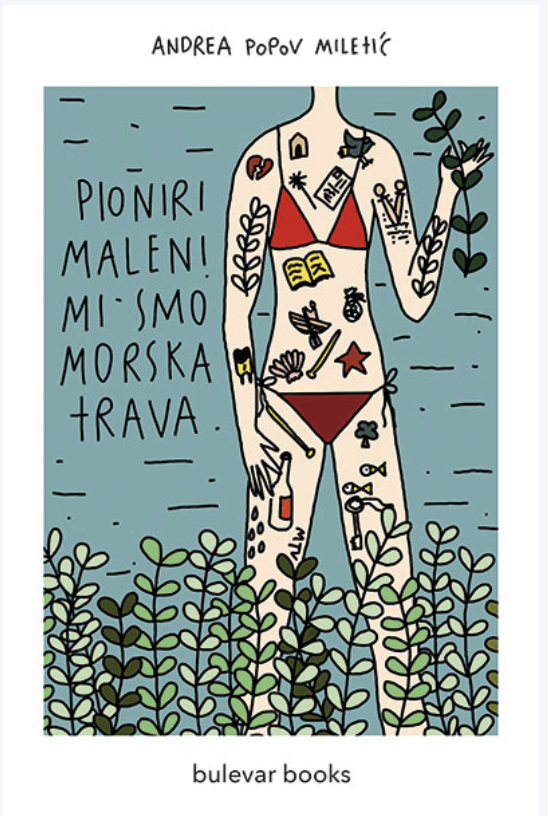 This anthology is my first foray into the UK, which I believe my prose deserves. It may or may not mean much, but it will certainly remain as an important part of the biography thanks to which writers like me can get some other translations, publications, residencies, and some new anthologies in the future. The common denominator is that they are all contemporary writers and that they are from this region – says Andrea for YuBiblioteka.
Andrea was one of the authors who used social media to respond to the critique regarding the title and the cover of the anthology. On her Facebook profile, she stated that we are actually talking about "irony, paradox and playing with stereotypes", and that "we have become too sensitive". For YuBiblioteka, Andrea explains her position:
I remembered the example of the title of the book "What a woman" (Kakva ženska in Serbian). When it was published, we could also read comments of condemnation on social media, because for God's sake, the book describes the achievements of significant women from this region. And I really liked that the authors and publishers played around with the phrase that is used for catcalling, and they turned it into "these women are admirable, kudos to them." The things that insult us individually can also have something to do with our sense of humor and what we have watched and read throughout our lives – says Andrea for YuBiblioteka.
That's why she adds: "The irony is that the title 'Balkan Bombshells' can also be read as our own prejudice about Western prejudice".
On this occasion, YuBiblioteka requested a comment from the publishing house. They summarized their statement regarding the cover and title of the anthology in a tweet that was published while the discussion was heated, and that, in their own words, has attracted more attention than any other tweet about their releases in the last 11 years since Istros Books exist:
The title is ironic in reference to bombshells
Balkan is a compliment
The cover shows an old bomb recycled as a dress mannequin
The authors are all female
The editor is female
The translator is one of the biggest supporters of Balkan literature there is
PLEASE read the stories!
Susan Curtis emphasizes that the title gains positive reactions "from reviewers and booksellers in the UK and the US, and it is a great pity that this view isn't shared by everyone".
WEST PUBLISHERS AS CENTERS OF POWER
For this text, YuBiblioteka found it important to include a statement from Will Firth, the translator of the texts for this anthology. Will Firth is also someone who is recognized as a literary translator who focuses on contemporary writing from the Serbo-Croatian speaking countries and North Macedonia.
We have asked him, having in mind his great experience working with writers from this region, what he thinks are the ways to support women's literature, and what are the ways to avoid the classic pitfalls that could happen when someone with more power supports those who are marginalized.
As to your latest question, I think I can only answer it from my perspective as a translator. The best I can do to support female authors is to continue to be a reliable, proactive translator and informal literary agent. I can endeavor to translate more female authors. I work 50-60 hours a week and earn less than the minimum wage, so I don't have any significant financial leeway; my rates are already too high for most Balkan authors to countenance paying me to do samples, for example.
Obviously, Anglophone publishers need to become more outgoing and be helped discover the brilliant literature that comes out of the Balkans, and the general reading public somehow needs to be given a jolt, but those things are in the too-hard basket for me – says Will.
We asked the writers we spoke with the same question regarding the support. For Andrea Popov Miletić, the matter of visibility and promotion is crucial:
In the UK, an average of 188,000 books are published annually, and in the USA over 275,000 (these are data from a few years ago) – it's a cruel capitalist game. Even if everyone stops and we are given the upper hand for a while, we cannot achieve this. Perhaps, first, our Western European colleagues could help us to be more visible. The black hole that opened during the 90s swallowed up many opportunities for creators and artists, so writers are no exception. So far, I have not met publishers from abroad, only local publishers who are doing their best to publish and promote us, or those of another kind – fraudsters who want to misuse our talent and our work. I can only speak about the situation in Serbia, because that is the only one I have insight into. In an ideal setting, ours is to be great and have text that has literary value, and we will all be visible and fairly paid. The publishers should find money through projects to get more involved in the promotion, which now is almost entirely left to us, to make sure that the book lives and reaches the people it needs to reach. I strongly believe that quality text always finds its way. The scandals pass, and the good text remains – says Andrea.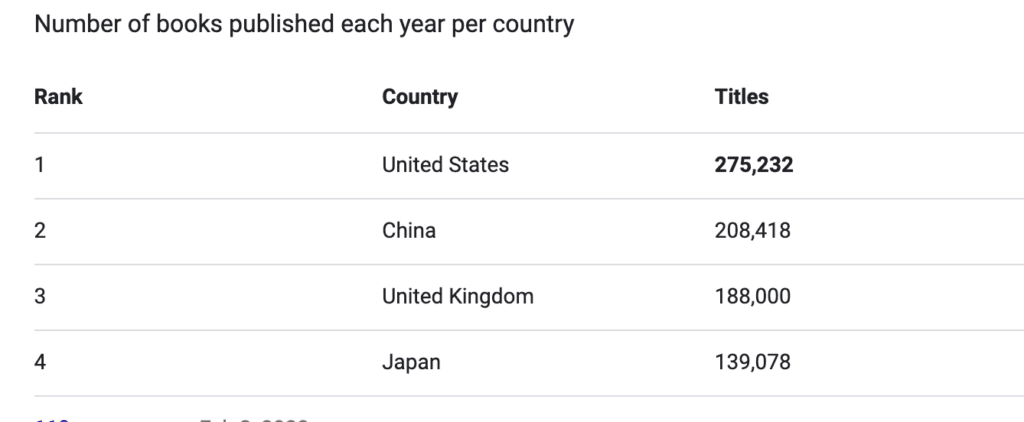 On the other hand, Marija Ratković talks about her lessons learned from the Balkan Bombshells anthology:
Publishing is a matter of negotiation. When we talk about support or representation, it is essential that authors are asked how they want to be represented, and then the possibilities are negotiated. I am sure that there are a huge number of ideas and that the rich history of our region can offer a handful of motives that are affirmative. The modern world, and America in particular, respects the idea of arrival, movement, travel, and diversity of culture. Today, the whole world knows who Tesla is and admires him. I'm sure that someone tried to sell his name in a simplified and offensive way. There are always bad ideas, it's just a matter of how we deal with them.
It is important that we all know that it is wrong to lie to the readers – and selling Serbia and Montenegro as the Balkans is first and foremost just that – a lie. We are witnessing that many do not want to fight against stereotypes as long as they bring money. This situation made a clear demarcation of who is ready for anything. And it is completely understandable that both the authors and the audience and critics know who fights against stereotypes and who sees them as an opportunity – says Marija.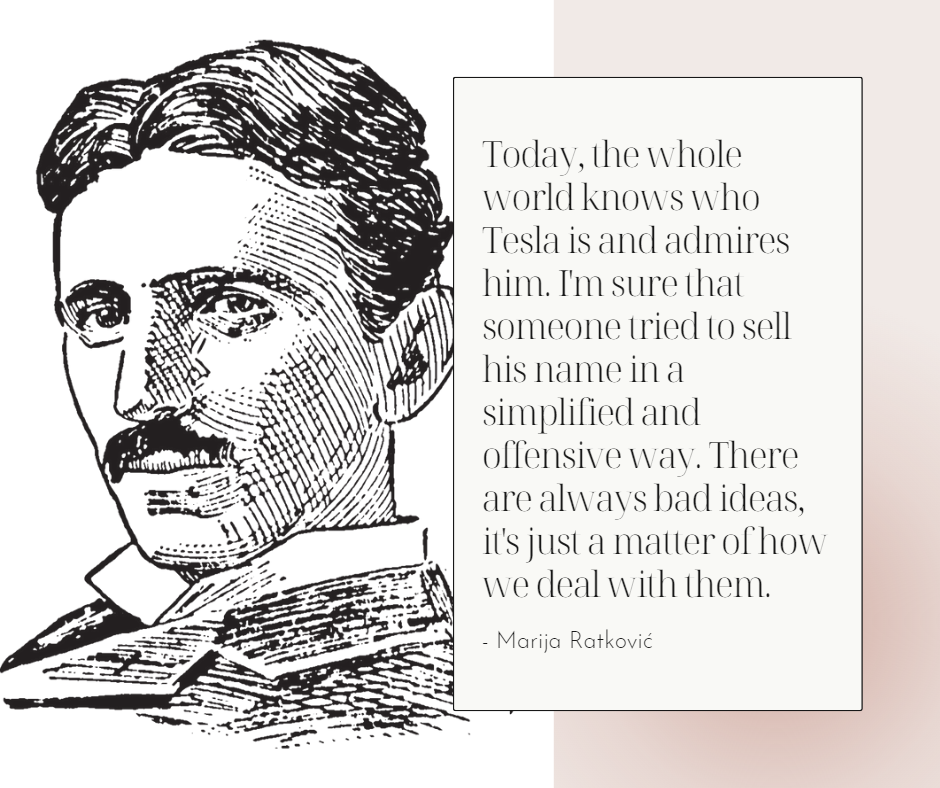 SOLIDARITY AMONG THE WOMEN WRITERS
As stated above, one of the issues that were opened during the discussion on the anthology is the presence of solidarity among the women writers from the region. Although on the opposite side of this particular debate, both Marija and Andrea had a lot of important words to share.
People misuse the word solidarity and especially women's solidarity to such an extent that it happened that opponents in the debate call me non-solidarity because we disagree and discuss openly. It's not solidarity that we help sell their books – solidarity is that we fight together for better conditions. I understand that they refused to fight together for their own interests, but they directly profited from our withdrawal – after all, we did a lot for them.
There are those who put their personal benefit before the political, public, and common. Today, with their dignity trampled on, afraid that the foreign editor might change his mind, lest we get a bad name as ungrateful or angry, they have no one to turn against, so they take out their anger and frustration on their colleagues. We do not condemn them for their choices. Criticism that resonated in the region refers to a series of wrong decisions by publishers – we criticize colonial and sexist relations, the absence of concepts and ignorance, unwillingness to dialogue, capitalistic replaceability of everyone – states Marija Ratković.
Marija says that today when it's being published, she sees the anthology as any other social or political phenomenon. 
Instead of insulting women colleagues, they can say why they are fine with the fact that there are no women authors from Bulgaria, Kosovo, Bosnia and Herzegovina, Macedonia, or Albania in the Balkan Bombshells collection, what they like about bombshells with curves, reducing the entire region to sex and death, that I would like to know.
As long as women think that we, and not the authors of the shameful anthology, are making them angry or ridiculed, the same logic continues that the one who reports evil is guiltier than the one who does it. And I proudly call myself a feminist because I fight to change that world, not for my free translation above all. There should be limits to personal gain. If there are none, we will write them down – says Marija.
On the other hand, Andrea is emphasizing that solidarity is something that can be learned.
Women's solidarity among writers from the region can be improved by inviting each other to joint actions, regardless of which generation and sexual orientation we belong to, which village or city we come from, and whether we are part of a "clique" or not. We will promote our colleagues when we are given the floor in a public space, write reviews and literary critiques about their books, we will not perceive each other as competition, and we will not shame our colleagues because of some of their choices. All this can be done instead of formal and trendy "empowerment" and "raising awareness" on social media. There are also concrete actions that can be implemented, as solidarity is learned and grown. I may not have the influence to invite other women authors to the festival, because I do not organize it and I am a marginal phenomenon, but I read manuscripts of younger women colleagues and provide them with useful advice and comments, I hold workshops for authors at the beginning of their career who want to try creative writing when they invite me, I send colleagues information about open competitions, residential stays, etc. – says Andrea Popov Miletić.
One thing is certain – being a woman writer from the Balkans usually means to be seen as a voice from the margins, but that doesn't mean that those voices are less valuable, even when they are disharmonious and full of noise. That's why we invite you to read regional authors and thus influence the reduction of the distance from the margins to the center.
S.P.